Wir bieten Ihnen ein breites Spektrum an IT- Dienstleistungen + Markenhardware
We offer a wide range of IT Hardware and Services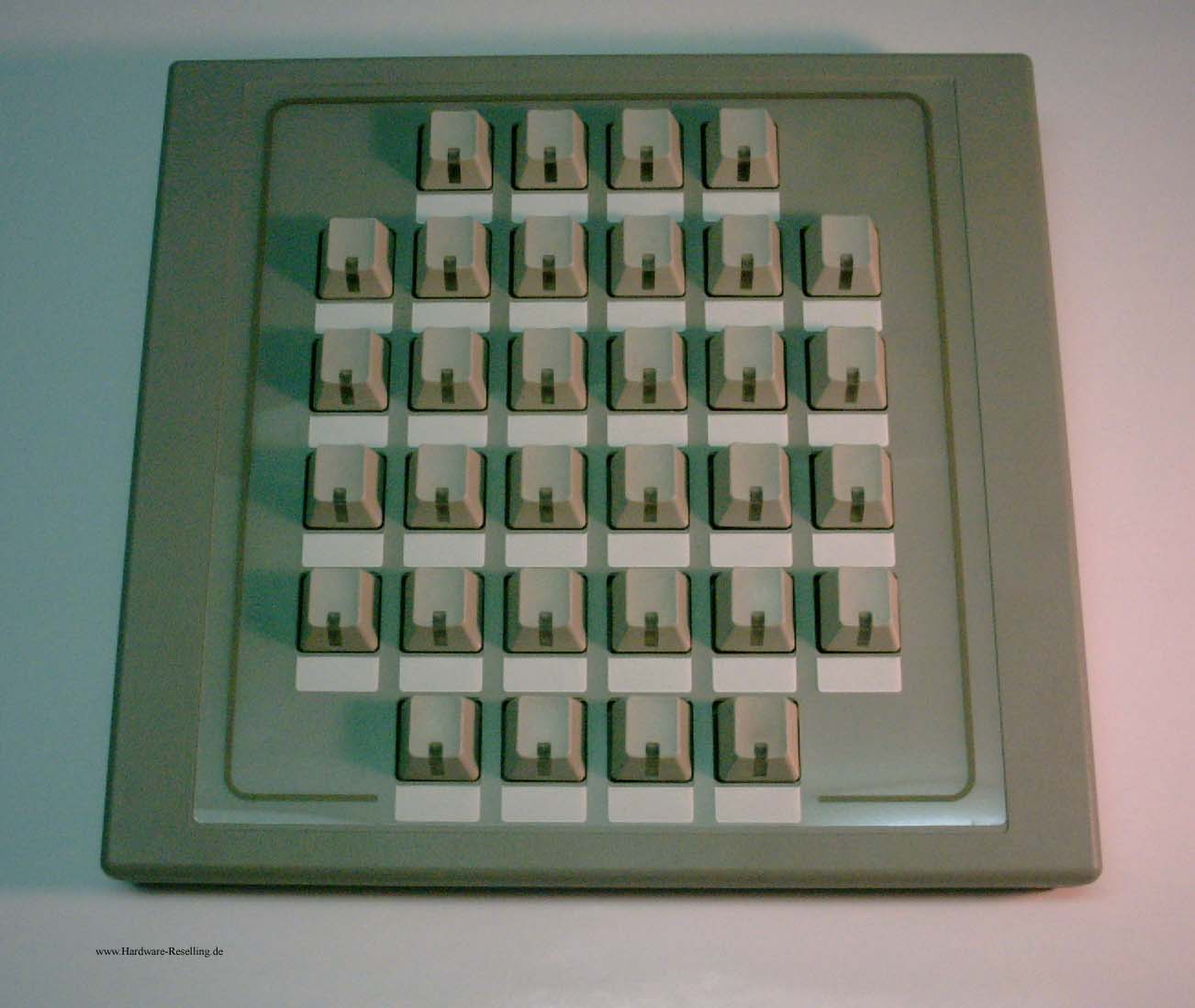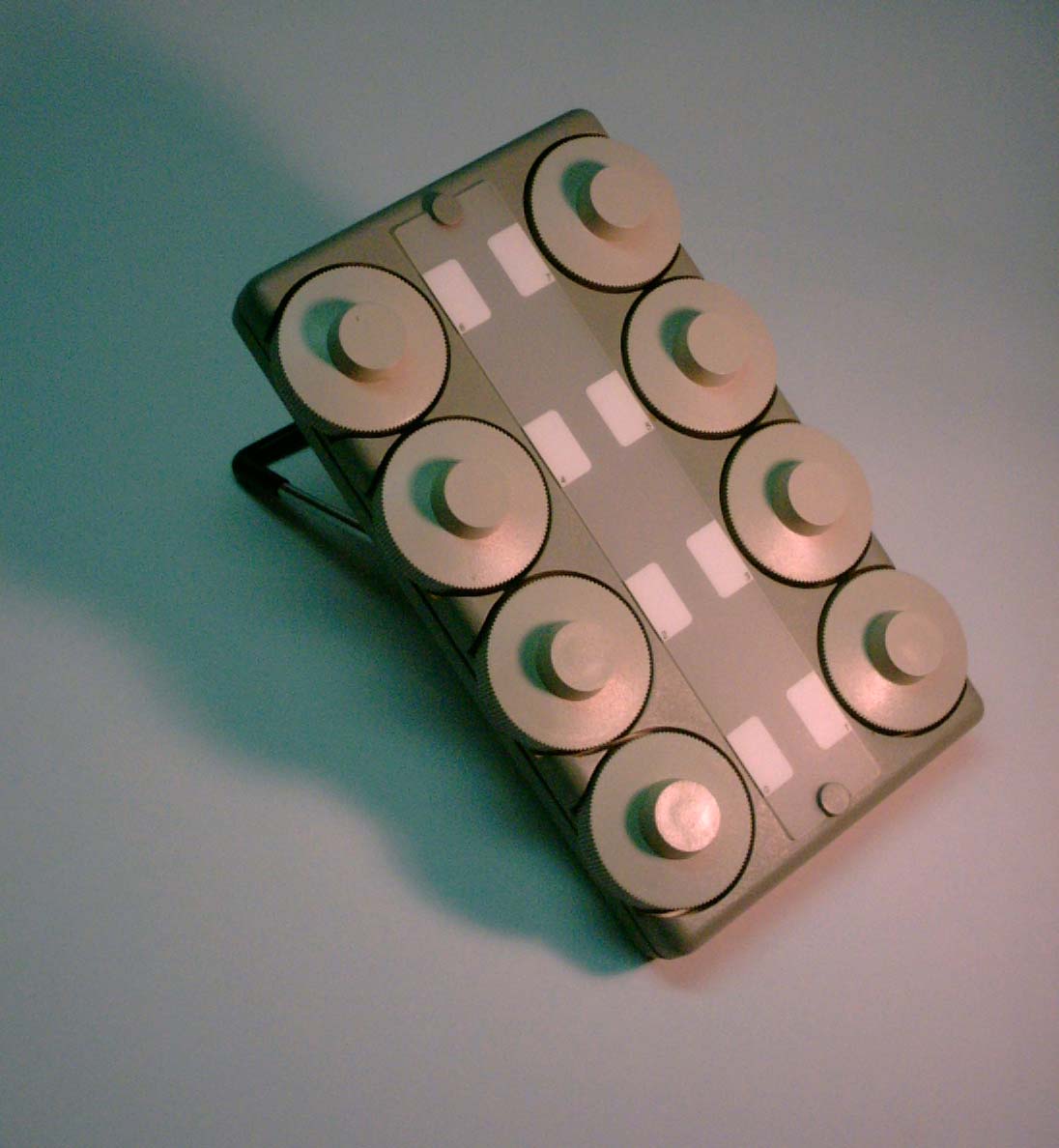 SGI Dials and Buttons Box

SGI #9980991 Buttons Box + 9980992 Dials + Powersupply 110-230V and special connectivity cable with serial connector and AC plug
manufactured by Advanced Input Devices and Danaher Controls

The button box provides 32 programmable function keys that extend the functionality of the workstation keyboard. Each keytop is illuminated to indicate the availability of that function within an application. Depending on the application, a single button can be configured to replace a single or multiple mouse or keyboard operations. An erasable overlay provides custom labeling for each button function. A serial connection to the host is required for operation.
The dials and buttons box is a combination of the buttons box described above and the dials box. The serial connection is combined within the buttons box so that they share a single serial port on the workstation.
The dials box provides the user with eight independent rotating dial controls that the user can configure to perform functions such as pan, zoom, rotate, and translate with various computer-automated design applications. Each dial has a smooth operating feel that will not interfere with the other dial positions. Dial movements are instantly presented on the workstation display. An erasable overlay provides custom labeling for each dial function. A serial connection to the host is required for operation.
The Dial box is an image manipulation device which allows the user to manually input scaler values in order to affect the visual image displayed on the monitor. The dial box is a seperate desktop unit consisting of eight panel encoders (commonly used for Pan, Zoom, and Rotation of 2D and 3D figures) The dials may also be programmed to provide specific function via the application. The dials increase the graphics cababilities of the SGI system they are interfaced with.
The Button box is a seperate keyboard consisting of 32 lighted full-travel keyswitches with a two color overlay. This option effectively expands the function keys of the desktop. These key are programmable and increase the functionality of the SGI system.

SGI Hardware Compatibility: Indigo2, Indy, O2, Octane, Onyx, Onyx2


Hier finden Sie neue, fast neue und gebrauchte Komplettsysteme sowie Markenhardware, stets mit Garantie!


Neugeräte von IBM, HP, COMPAQ, Siemens, Fujitsu, SUN und Apple Macintosh liefern wir in kürzester Zeit und zu speziellen Preisen.

We offer new and 2nd hand systems plus branded hardware, always with guarantee!


New systems by IBM, HP, COMPAQ, FujitsuSiemens, SUN and Apple will be delivered quickly - with special prices
---
USt.-ID Nr:
DE 114312348
Hardware-Reselling.de

Hermann Schiebener
Dipl.-Kaufmann
Hundshager Weg 30
D - 65719 Hofheim
Phone:
Fax:
E-Mail:
+49 (0) 6196 4 23 30
+49 (0) 6196 4 45 45
Info@Hardware-Reselling.de