Wir bieten Ihnen ein breites Spektrum an IT- Dienstleistungen + Markenhardware
We offer a wide range of IT Hardware and Services
QuickSpecs
Compaq Professional Workstation AP400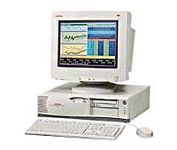 200-Watt Power Supply
1.44-MB Diskette Drive
3.5-inch Internal Drive Bay
Power Switch with LEDs
Internal 32X MaxCD-ROM Drive (IDE)
5.25-inch Drive Bay (available)
3-button Mouse
Compaq Keyboard
Slide-Out System Board
AGP Connector
Expansion
Removable Expansion Board Bracket
Workstation Cover
Compaq Color Monitor (optional)
At A Glance

Desktop form factor
Supports up to two Intel Pentium® III 700-, 600E-, or 550-MHz processors (100-MHz Front Side Bus)
Intel 440BX Chipset
256-KB Full speed writeback Level 2 cache integrated on
700- and 600E-MHz processors
512-KB Half speed writeback Level 2 cache integrated on
550-MHz processor
128 MB of Registered ECC SDRAM, expandable to 1 GB
Supports up to seven SCSI devices
High-performance 9.1-GB Wide-Ultra or Ultra2 SCSI (7200 rpm) SMART hard drives
Up to 54 GB of high- performance internal storage
Compaq NC3161 Fast Ethernet NIC Embedded 10/100 with Wake-on-LAN support in either 10Base-T or 100Base-TX environments
32-bit, PCI-based system
Six total slots (three PCI, one shared PCI/ISA, one ISA, one AGP)
Five bays (three user-accessible, two internal)
Internal 32X Max CD-ROM Drive (IDE) and Premier·Sound™ Audio
Choice of Matrox Millennium G200, Matrox Productiva G100 Quad Multi-monitor Series or ELSA Synergy II Graphics Controllers
Multiple monitor support
Windows NT Workstation and Compaq support software
pre-installed
Intelligent Manageability Features
Protected by Compaq Services, including a three-year limited warranty — Certain restrictions and exclusions apply. Consult the Compaq Customer Support Center for details. Three year labor and onsite may not be available in all countries.
Standard Features
Models
Compaq Professional Workstation AP400
Available in multiple configurations. Not all configurations available in all countries. Check with your Authorized Compaq Reseller or Compaq.
Processor – One of the following:
Intel Pentium III 700 MHz
Intel Pentium III 600E MHz
Intel Pentium III 550 MHz
Cache Memory – One of the following:
256-KB Full speed Level 2 cache per processor standard
512-KB Half speed Level 2 cache per processor standard (550-MHz models)
Upgradable to dual processing
Memory Standard 128 MB of 100-MHz Registered ECC SDRAM memory
Maximum 1 GB
Network Controller
Compaq NC3161 Fast Ethernet NIC Embedded 10/100 WOL standard
Expansion Slots
I/O (Total)
6, 5 available
Shared PCI/ISA 1, 1
PCI 3, 3 or 2 (depending on model)
ISA 1, 1
AGP 1, 1 or 0 (depending on model)
Storage Controller
Wide-Ultra SCSI and integrated Ultra ATA
Storage
Diskette Drives
1.44 MB
CD-ROM
32X Max CD-ROM Drive IDE
Hard Drives
One of the following:
9.1-GB Wide-Ultra2 SCSI (7200 rpm)
(Wide-Ultra SCSI or Wide Ultra2 SCSI capable depending on controller.)
9.1-GB Wide-Ultra SCSI (7200 rpm)
Interfaces
Parallel 1
USB 2
Serial 2
Wide-Ultra SCSI (50-pin) 1
Keyboard (PS/2) 1
Pointing Device (PS/2 mouse) 1
Video 1
Microphone Jack 1
Headphone Jack 1
Line-In 1
Line-Out 1
RJ-45 1
Graphics – One of the following:
2D:
Matrox Millennium G200 (AGP) Graphics Controller
2D/3D:
ELSA Synergy II (AGP) Graphics Controller
Multi-Display:
Matrox Productiva G100 Quad Multi-monitor Series
Audio
Integrated 16-bit Premier·Sound Audio
Integrated speaker
Integrated five stage equalizer
Software
Compaq Insight Manager
Compaq SmartStart
Compaq Management Agents for Workstations
Compaq PC Diagnostics and Setup for Workstations
Compaq support software
Microsoft Windows NT Workstation 4.0
Diagnostics for Windows NT
Microsoft Internet Explorer
Microsoft Service Pack 4A
Intelligent Manageability
AssetControl
Fault Management
Security Management
Remote Management
Remote Wakeup via Magic Packet Support
Remote ROM Flash
Remote Security
Remote Shut Down
Pre-Failure Warranty (processors, hard drives and memory)
Security
Diskette write and boot control
Flash ROM lock
Keyboard password
Network server mode
Parallel interface control
Power-on password
Serial interface control
Setup password
Cable lock provision
Power Supply
200-Watt Power Supply
Service and Support
Protected by Compaq Services, including a three-year limited warranty with three year parts coverage, three year on-site service, and three year labor; 7 x 24 hardware technical phone support and on-line support through the Internet; Pre-Failure Warranty coverage of hard drives, memory, and processors
Note: Certain restrictions and exclusions apply. Consult the Compaq Customer Support Center for details. Three year onsite and labor not available in all countries.
Models
40D/700/128S/9S/2
161733-xx1

Processor
Intel Pentium III 700-MHz
Optical Drive
32X Max CD-ROM Drive
Cache Memory
256-KB Full speed L2
Hard Drive
9.1-GB Wide Ultra2 SCSI 7200 rpm
Memory
100-MHz ECC SDRAM
Controller
Wide-Ultra SCSI
Standard
128 MB
Graphics
Matrox Millennium G200
Maximum
1 GB
Audio
16-bit Premier·Sound
OS
Windows NT Workstation 4.0
40D/700/128S/9S/2+
161733-xx3

Processor
Intel Pentium III 700-MHz
Optical Drive
32X Max CD-ROM Drive
Cache Memory
256-KB Full speed L2
Hard Drive
9.1-GB Wide Ultra2 SCSI 7200 rpm
Memory
100-MHz ECC SDRAM
Controller
Wide-Ultra SCSI
Standard
128 MB
Graphics
ELSA Synergy II
Maximum
1 GB
Audio
16-bit Premier·Sound
OS
Windows NT Workstation 4.0
40D/700/128/9S/X
161733-xx4 and graphics option

Processor
Intel Pentium III 700-MHz
Optical Drive
32X Max CD-ROM Drive
Cache Memory
256-KB Full speed L2
Hard Drive
9.1-GB Wide Ultra2 SCSI 7200 rpm
Memory
100-MHz ECC SDRAM
Controller
Wide-Ultra SCSI
Standard
Maximum

128 MB
1 GB

Graphics
Choice of Graphics Option:
Matrox Productiva G100 Quad (101479-B21)
Matrox Millennium G200 (294308-B21)
ELSA Synergy II (103382-B21)
Audio
16-bit Premier·Sound
OS
Windows NT Workstation 4.0
AP4 600E/128/9S/2
195278-xx1

Processor
Intel Pentium III 600E-MHz
Optical Drive
32X Max CD-ROM Drive
Cache Memory
256-KB Full speed L2
Hard Drive
9.1-GB Wide Ultra2 SCSI 7200 rpm
Memory
100-MHz ECC SDRAM
Controller
Wide-Ultra SCSI
Standard
128 MB
Graphics
Matrox Millennium G200
Maximum
1 GB
Audio
16-bit Premier·Sound
OS
Windows NT Workstation 4.0
AP4 600E/128/9S/4X
195278-xx2

Processor
Intel Pentium III 600-MHz
Optical Drive
32X Max CD-ROM Drive
Cache Memory
256-KB Full speed L2
Hard Drive
9.1-GB Wide Ultra2 SCSI 7200 rpm
Memory
100-MHz ECC SDRAM
Controller
Wide-Ultra SCSI
Standard
128 MB
Graphics
Matrox Productiva G100 Quad MMS
Maximum
1 GB
Audio
16-bit Premier·Sound
OS
Windows NT Workstation 4.0
AP4 550S1/128/9S/2
126968-xx1

Processor
Intel Pentium III 550-MHz
Optical Drive
32X Max CD-ROM Drive
Cache Memory
512-KB Half speed L2
Hard Drive
9.1-GB Wide-Ultra SCSI 7200 rpm
Memory
100-MHz ECC SDRAM
Controller
Wide-Ultra SCSI
Standard
128 MB
Graphics
Matrox Millennium G200
Maximum
1 GB
Audio
16-bit Premier·Sound
OS
Windows NT Workstation 4.0
AP4 550S1/128/9S/4X
126968-xx3

Processor
Intel Pentium III 550-MHz
Optical Drive
32X Max CD-ROM Drive
Cache Memory
512-KB Half speed L2
Hard Drive
9.1-GB Wide-Ultra SCSI 7200 rpm
Memory
100-MHz ECC SDRAM
Controller
Wide-Ultra SCSI
Standard
128 MB
Graphics
Matrox Productiva G100 Quad MMS
Maximum
1 GB
Audio
16-bit Premier·Sound
OS
Windows NT Workstation 4.0
AP4 550S1/128/9S/2+
126968-xx4

Processor
Intel Pentium III 550-MHz
Optical Drive
32X Max CD-ROM Drive
Cache Memory
512-KB Half speed L2
Hard Drive
9.1-GB Wide-Ultra SCSI 7200 rpm
Memory
100-MHz ECC SDRAM
Controller
Wide-Ultra SCSI
Standard
128 MB
Graphics
ELSA Synergy II
Maximum
1 GB
Audio
16-bit Premier·Sound
OS
Windows NT Workstation 4.0
AP4 550S1/128/9S/X
126968-xx5 and graphics option

Processor
Intel Pentium III 550-MHz
Optical Drive
32X Max CD-ROM Drive
Cache Memory
512-KB Half speed L2
Hard Drive
9.1-GB Wide-Ultra SCSI 7200 rpm
Memory
100-MHz ECC SDRAM
Controller
Wide-Ultra SCSI
Standard
Maximum
128 MB
1 GB
Graphics
Choice of Graphics Option:
Matrox Productiva G100 Quad (101479-B21)
Matrox Millennium G200 (294308-B21)
ELSA Synergy II (103382-B21)
Audio
16-bit Premier·Sound
OS
Windows NT Workstation 4.0
Country Code Key
XX=00
U.S. English
XX=A2
Europe: English, French, Italian, German
XX=A4
Europe: Dutch, French, English, Spanish
XX=29
Japan: Japanese
XX=37
Asia/Pacific: English
XX=39
Japan: English