Wir bieten Ihnen ein breites Spektrum an IT- Dienstleistungen + Markenhardware
We offer a wide range of IT Hardware and Services
QuickSpecs
Compaq Professional Workstation AP550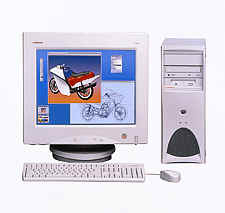 At A Glance

Convertible minitower form factor
Supports up to two Intel Pentium PIII 1-GHz or 866-MHz (133-MHz Front Side Bus)
Intel 840 chipset
256-KB L2 cache integrated on processor
ECC RDRAM expandable to 2 GB
High-performance Ultra3 (Ultra160) SCSI 10,000 rpm or optional 15,000 rpm hard drives
Integrated Ultra3 (Ultra160) SCSI and Ultra ATA/66 controllers
Up to 144 GB of high-performance internal storage
Choice of NVIDIA Quadro2 MXR, Compaq NVIDIA TNT2 Pro, NVIDIA Quadro2 Pro, Matrox Millennium G450, ELSA GLoria II, ELSA Synergy II, Matrox G200 Quad Multi-monitor Series, or Intense3D Wildcat 4210 Graphics Controllers
Multiple display support
Integrated Intel PRO/100+ Management Adapter
Five total slots (four PCI and one AGP Pro 4X)
Five bays (three external and two internal)
40X or 48X Max CD-ROM Drive or DVD-ROM (depending on model) and Compaq Premier· Sound™ featuring AC '97 audio
Windows 2000 or Windows NT Workstation 4.0
Protected by Compaq Services, including a three-year, limited warranty — Certain restrictions and exclusions apply. Consult the Compaq Customer Support Center for details. Three-year onsite and labor not available in all countries.

Hier finden Sie neue, fast neue und gebrauchte Komplettsysteme sowie Markenhardware, stets mit Garantie!


Neugeräte von IBM, HP, COMPAQ, Siemens, Fujitsu, SUN und Apple Macintosh liefern wir in kürzester Zeit und zu speziellen Preisen.

We offer new and 2nd hand systems plus branded hardware, always with guarantee!


New systems by IBM, HP, COMPAQ, FujitsuSiemens, SUN and Apple will be delivered quickly - with special prices
---
USt.-ID Nr:
DE 114312348
Hardware-Reselling.de

Hermann Schiebener
Dipl.-Kaufmann
Hundshager Weg 30
D - 65719 Hofheim
Phone:
Fax:
E-Mail:
+49 (0) 6196 4 23 30
+49 (0) 6196 4 45 45
Info@Hardware-Reselling.de