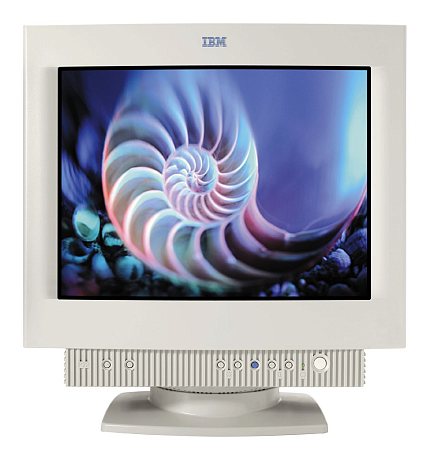 The P72 17.0-inch (16.0-inch viewable) Trinitron Color Monitor (6556) has improved control function and enhanced color control capability.

Features:
The P72 Color Monitor has a viewable image size of 16.0 inches (407mm), incorporating a 0.25-mm aperture grille for bright, high-definition images
A maximum horizontal frequency of 85 kHz provides flicker-free operation at an optimum 1024 x 768 pels at up to 85 Hz non-interlaced with a maximum addressability of 1280 x 1024 pels
Supports a wide range of display modes and can attach to and operate with many compatible PC systems. The microprocessor-controlled, multifrequency operation allows you to change, replace, or upgrade most system units without replacing the monitor. Will run most standard VGA, SVGA, and XGA applications without modification, minimizing additional expenses associated with program alterations or in retraining staff.
Video Electronics Standards Association (VESA) Display Data Channel (DDC) capability for Plug and Play and asset tracking when the attaching system unit's hardware and software is DDC-enabled.
Meets the power consumption requirements of Swedish National Board for Industrial and Technical Development (NUTEK). As an Energy Star partner, IBM has determined that this product meets the Energy Star guidelines for energy efficiency.
Supports the timings for the Video Electronics Standards Association (VESA) 85 Hz non-interlaced refresh rate display modes for 640 x 480, 800 x 600, and 1024 x 768 addressabilities. Appropriate graphics adapter hardware and software must be installed in the attaching system unit.
All models of the P72 monitor are TCO-95 compliant and incorporate a universal power supply with power factor correction (EN 61000-3-2:1995) providing worldwide operating capability
Key Prerequisites: The P72 monitor operates with many compatible PC systems. Most VGA, SVGA, XGA, and SXGA applications will run without modification
Weight 43.2 lbs (19.2 kg)
Height 17.4 in (441 mm)
Width 16.1 in (408 mm)
Depth 17.1 in (434 mm)
Power Requirements
Input voltage: 100-240 V AC, 50/60Hz
Heat dissipation (Maximum): 410 Btu/hr
Power consumption (Maximum): 120 watts
Power consumption (VESA Standby): <15 watts typical
Power consumption (VESA Suspend): <15 watts typical
Power consumption (VESA Off): < 8 watts typical
Maximum earth leakage current: 0.50 mA at 100 V AC
Factory-Preset Display Modes
Addressability Refresh Line Rate VESA
640 x 480 60Hz NI 31.5 kHz Std
640 x 480 75Hz NI 37.5 kHz Std
640 x 480 85Hz NI 43.3 kHz Std
800 x 600 75Hz NI 46.9 kHz Std
800 x 600 85Hz NI 53.7 kHz Std
1024 x 768 75Hz NI 60.0 kHz Std
1024 x 768 85Hz NI 68.7 kHz Std
1280 x 1024 75Hz NI 80.0 kHz Std


Hier finden Sie neue, fast neue und gebrauchte Komplettsysteme sowie Markenhardware, stets mit Garantie!


Neugeräte von IBM, HP, COMPAQ, Siemens, Fujitsu, SUN und Apple Macintosh liefern wir in kürzester Zeit und zu speziellen Preisen.

We offer new and 2nd hand systems plus branded hardware, always with guarantee!


New systems by IBM, HP, COMPAQ, FujitsuSiemens, SUN and Apple will be delivered quickly - with special prices
---
USt.-ID Nr:
DE 114312348
Hardware-Reselling.de

Hermann Schiebener
Dipl.-Kaufmann
Hundshager Weg 30
D - 65719 Hofheim
Phone:
Fax:
E-Mail:
+49 (0) 6196 4 23 30
+49 (0) 6196 4 45 45
Info@Hardware-Reselling.de