Wir bieten Ihnen ein breites Spektrum an IT- Dienstleistungen + Markenhardware
We offer a wide range of IT Hardware and Services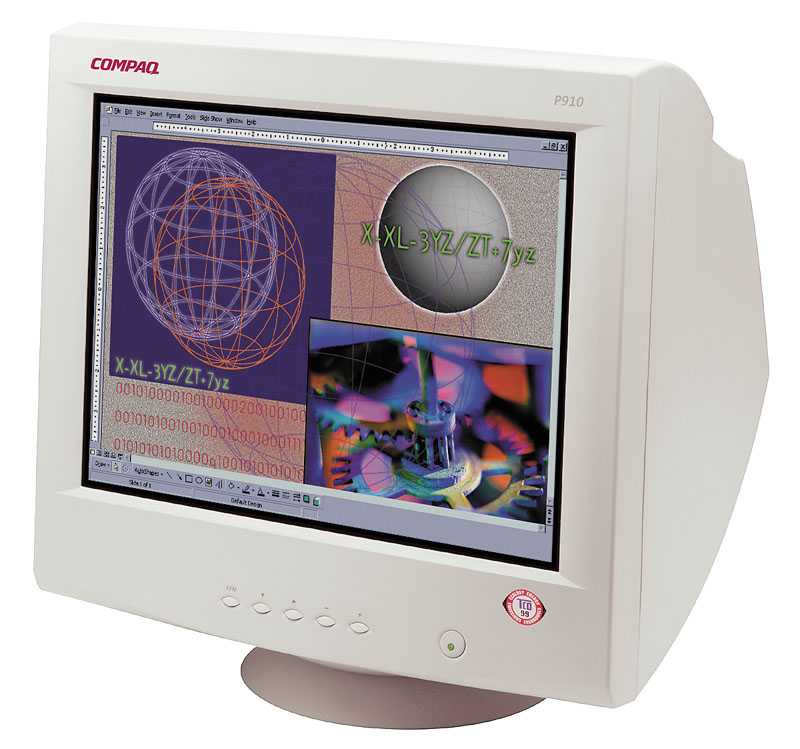 QuickSpecs
Compaq P910 CRT Monitor

Note: AssetControl monitor. AssetControl features are accessible with Compaq desktops featuring Intelligent Manageability.

SPECIFICATIONS
Type Color auto-scanning with Digital Control
Picture Tube (diagonal) 19 in/ 48 cm Diamondtron NF CRT
Viewable (diagonal) 18 in/46 cm
Pitch Northern Hemisphere 0.24 mm Aperture Grill Pitch
Graphic Preset Modes 1920 x 1440 1792 x 1344 1600 x 1200 1280 x 1024 70 Hz/60 Hz 75 Hz/75 Hz 85 Hz/75 Hz, 85 Hz 100 Hz/75 Hz, 85 Hz 1024 x 768 800 x 600 640 x 480 130 Hz/75 Hz, 85 Hz 140 Hz/75 Hz, 85 Hz 140 Hz/60 Hz, 85 Hz
Note: All modes are non-interlaced unless specified otherwise. V Frequency shown Maximum/Presets.
Text Mode 720 x 400 70 Hz Mac Compatible Modes 1152 x 870 75 Hz Note: Adapter required.
User-Programmable Modes 14 (6 Preset Modes and 8 Pre-loads)
Anti-Glare/Anti-Reflection/Anti-Static Yes/Yes/Yes
Plug and Play Yes
Plug and Play Protocol DDC1/2B
Dual Video Inputs No

Hier finden Sie neue, fast neue und gebrauchte Komplettsysteme sowie Markenhardware, stets mit Garantie!


Neugeräte von IBM, HP, COMPAQ, Siemens, Fujitsu, SUN und Apple Macintosh liefern wir in kürzester Zeit und zu speziellen Preisen.

We offer new and 2nd hand systems plus branded hardware, always with guarantee!


New systems by IBM, HP, COMPAQ, FujitsuSiemens, SUN and Apple will be delivered quickly - with special prices
---
USt.-ID Nr:
DE 114312348
Hardware-Reselling.de

Hermann Schiebener
Dipl.-Kaufmann
Hundshager Weg 30
D - 65719 Hofheim
Phone:
Fax:
E-Mail:
+49 (0) 6196 4 23 30
+49 (0) 6196 4 45 45
Info@Hardware-Reselling.de