Wir bieten Ihnen ein breites Spektrum an IT- Dienstleistungen + Markenhardware
We offer a wide range of IT Hardware and Services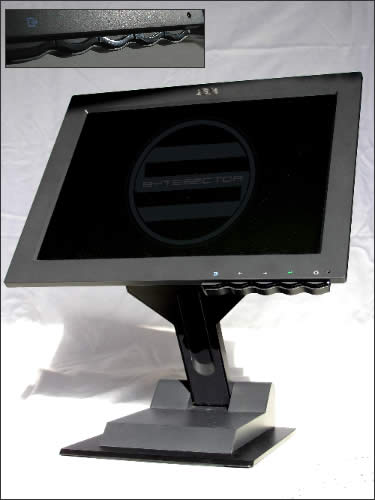 | | |
| --- | --- |
| | Beschreibung/Details: |
| | 15 Zoll-LCD/TFT-Monitor / max. Auflösung: 1024 x 768 dpi / Helligkeit: 250 cd/m² / vertikale Frequenz: 75 Hz / Kontrast: 300:1 / Abmessungen: 365 x 235 x 436 mm |
A few words about the display
The display comes with a standard 300:1 contrast ratio. Personally, this is a bare minimum for any display I would consider purchasing. CRT monitors all have 600:1 contrast ratios. The T560 barely makes the cut. The brightness is a standard 270 cd/m2. As for any 15" LCD display, the maximum resolution is 1024x768 pixels. This is the standard home computing resolution these days (up from 800x600 pixels). The black casing and stand make this monitor slightly more targeted to a particular environment versus a silver colored display. The display offers a fairly nice 6 button control area which looks like a "wave". The easy to use OSD menu offers all the standard options including brightness, contrast, RGB settings and OSD position and transparency. The more than solid base provides reassurance that nothing will break and cause the screen to fall. The power and input connections are located at the back of the base, but they are located so far into the base that it is hard to plug in the power adapter and even harder to turn the screws that hold the input cable to the port. The displays' unique stand allows it to be bent backward up to 145 degrees allowing the user some flexibility. The display also rotates up to 270 degrees allowing for both portrait and landscape viewing (when used in conjunction with PivotPro). These are two selling features of the T560. We found them out of the ordinary for a 15" display, but then again, that's what makes it unique.


Hier finden Sie neue, fast neue und gebrauchte Komplettsysteme sowie Markenhardware, stets mit Garantie!


Neugeräte von IBM, HP, COMPAQ, Siemens, Fujitsu, SUN und Apple Macintosh liefern wir in kürzester Zeit und zu speziellen Preisen.

We offer new and 2nd hand systems plus branded hardware, always with guarantee!


New systems by IBM, HP, COMPAQ, FujitsuSiemens, SUN and Apple will be delivered quickly - with special prices
---
USt.-ID Nr:
DE 114312348
Hardware-Reselling.de

Hermann Schiebener
Dipl.-Kaufmann
Hundshager Weg 30
D - 65719 Hofheim
Phone:
Fax:
E-Mail:
+49 (0) 6196 4 23 30
+49 (0) 6196 4 45 45
Info@Hardware-Reselling.de