Wir bieten Ihnen ein breites Spektrum an IT- Dienstleistungen + Markenhardware
We offer a wide range of IT Hardware and Services

B

ased on innovative Wildcat™ 3D Graphics Technology, the Wildcat 4110 offers professional features and professional performance on the desktop. Features such as ParaScale™ architecture allows the Wildcat 4110 to accelerate the entire 3d graphics pipeline in hardware, enabling you to achieve new, unparalleted levels of productivity with the most complex visual data sets.

With the Wildcat 4110, graphics professionals can experience the unmatched 3D graphics feature set, on-screen responsiveness, and display quality offered only by Wildcat technology.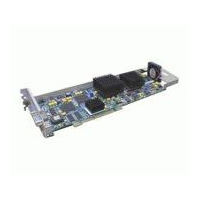 *Requires an AGP Pro 50 Slot
Wildcat Chipset Technology
Data width

Frame buffer: 128 bits
Texture buffer: 64 bits
DirectBurst: 64 bits
Integrated 220MHz RAMDAC
Geometry Acceleration

Model view matrix transformation of vertex and normal coordinates
Perspective and viewport transformations
Texture matrix transformation of texture coordinates
Local display list storage and processing
Full lighting calculations (up to 24 lights)
View volume clipping
Up to six user clip planes
Image processing
Hardware Performance
3D Gourad-shaded triangles, Z-buffered: 6.0 million tri/sec
TrilinearTextured, Gouraud-shaded, 32-bit (RGBA) texels: 142.0 Mixels/sec
3D Vectors, solid-color, 10-pixel: 12.0 million vec/sec
NOTE:Performance numbers reflect maximum hardware rate. Numbers may vary depending on application.
Professional 2D/3D Features
SuperScene™ full-scene multisampled antialiasing:

Point sampled with eight samples
Sample location jittering
Dynamic sample allocation
Dynamic sample backoff
64-bit hardware accumulation buffer

Traditional 2D Operations

16- and 32-bit color depths (565, 8888)
Solid and patterned area fills
Vectors (diamond rule compliant)
Block moves (screen-to-screen)
Block gets (screen-to-system)
Block puts (system-to-screen)
Board Physical
Full-length ATX form-factor
AGP Pro 50 (AGP Version 2.0 Compliant)
Memory
64 MB dedicated frame buffer
64 MB dedicated texture buffer
8 MB DirectBurst
Display
True color resolutions up to 1920x1200 double-buffered and 32-bit Z per monitor
60Hz-85Hz screen refresh rates (monitor dependant)
Display resolution

Max.
Refresh Rate

SuperScene Support

Stereo Support

1280x1024

85

—

Yes

1824x1368

75

—

—

1600x1200

75

—

—

1280x960

85

—

Yes

1152x864

85

Yes

Yes

1024x768

85

Yes

Yes

800x600

85

Yes

Yes

640x480

85

Yes

Yes

1920x1200

75

—

—

1824x1128

75

—

—

1600x1024

75

—

—

1440x900

85

—

Yes

1280x800

85

Yes

Yes

2048x1152

75

—

—

1920x1080

75

—

—

1520x856

85

—

Yes

1360x766

85

Yes

Yes

1280x720

85

Yes

Yes

856x480

85

Yes

Yes
Stereo Sync Support
Female, 3-pin, VESA-standard, mini-DIN connector provides connection to a LCD shutter glasses emitter module or to other stereo shutter devices
Drivers
Microsoft® Windows® NT
Windows 2000
Connectors
3-pin, mini-DIN stereo sync output
15-pin, D-sub analog video output
One 29-pin DVI-I output connector (supports one standard 15-pin VGA output connector with required adapter)
System Requirements
Intel® Pentium® processor or compatible
Microsoft Windows NT 4.0 with Service Pack 5 or higher or Windows 2000
One AGP Pro 50 slot
One open PCI slot adjacent to the AGP Pro 50 slot for cooling
Minimum of 32 MB DRAM (64 MB recommended)
3 MB of free space on the computer's primary system disk for the video display driver software
49 W of available power
you may have a look in the original manuals here:
http://www.3dlabs.com/support/manuals/index.htm